Learn design tips and tricks to display your decorative table vases indoors and outdoors at your home, business, or special event.
Your wedding reception is a celebration of a new beginning. And as one of the most important events in your life, your tablescape should represent both who you are as a couple and individually.
Whether you're designing a sleek, minimalist setting or going for a vibrant, colorful aesthetic– infusing natural elements and modern design will captivate your guests and create memories for years to come. From alternative patterns to innovative designs, here's how to create an elegant modern wedding tablescape.
Mix and match different colors and patterns
Modern tablescapes don't have to be monotone. Don't be afraid to craft a colorful and vibrant wedding tablescape by layering different colors and patterns. Mixing both can create stunning event décor. On the other hand, if you prefer neutral colors and minimalist patterns, you can still easily integrate subtle patterns and tones.
To generate modern tablescape ideas, think about pairing classic seasonal blooms with a sleek black modern ceramic vase and geometric table runners. Find inspiration from your favorite paintings, graphic designs, or textiles to elevate your modern wedding tablescape to the next level.
Incorporate contrasting wedding florals
Floral table arrangements are an effective way to amplify your design ideas– but they're so much more than that. Depending on their color, texture, and movement, fresh flowers add visual intrigue and a surprise element to your décor.
Modern wedding centerpieces often complement a monochromatic statement. Adding contrasting flowers can brighten up your tablescape with an unexpected punch of color. When it comes to wedding planning, minimalist vases paired with vibrant wedding florals can make all the difference.
Illuminate your décor with the perfect lighting
Lighting plays a vital role. A minimalist tablescape can look stark without enough light while achieving the perfect illumination can turn the same set-up into a stunning, crisp look.In other words, the bulbs and candles you choose (whether they're simple votives or eye-catching fixtures) will either help or hurt your overall design and set the mood for your photos and festivities. For a warm, inviting look that illuminates your centerpiece, opt for dimmed overhead lighting with bright votives.
Play with texture for a dynamic look
When creating a modern wedding tablescape, combining different textures is key to achieving a cohesive and upscale look. Texture can be found in almost any detail — from your table runners to greenery to your linens and floral design
In addition to florals, stunning midcentury vases, and textured linens, don't forget to consider the shape of your chairs and tables so the over-all effect is cohesive. Finally, incorporating a variety of textures and colors creates interest and movement for the eye, which can help transform your modern tablescape from "decorated" to "dynamic."
Elegant, Modern Wedding Centerpieces
At Pandemic Design Studio, our modern ceramic vases come in a variety of sizes and colors so you can design a sophisticated, customized tablescape for your wedding. We specialize in innovative ceramic vases that can be purchased or rented to create your dream wedding tablescape.
Shop our selection of modern ceramic vases today. Contact Pandemic Design Studios today to inquire or call (440) 785-2914 for more details.
Looking for a stunning piece of decor to beautify your home? Table vases are a simple, effortless element of home design. They can instantly transform your space while introducing contemporary colors and shapes. From creating a vibrant flower scape to designing a minimalist centerpiece, here's how to arrange table vases to achieve a refined, sophisticated look.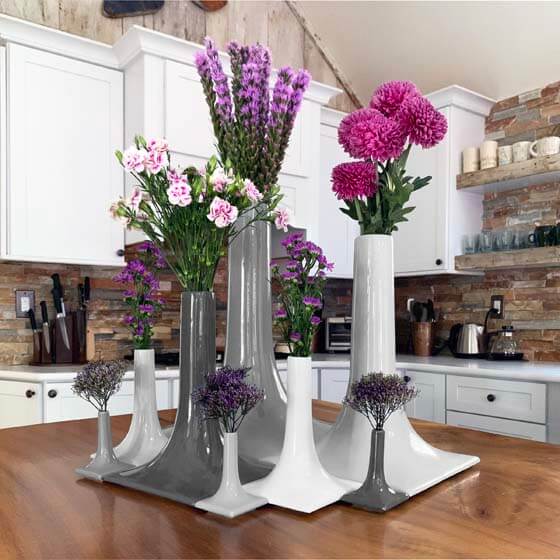 Make a Bold Statement with Different Colors
When it comes to arranging table vases, experiment with different color palettes. For example, pairing a crisp white ceramic table vase with a bright orange area rug creates a bold contrast with a modern aesthetic. In the entryway, try placing a colored floor vase, at least five feet away from the entrance, to impress guests as soon as they enter your home.
Pairing a minimalist white or gray table vase with fresh blooms can help brighten the darker corners of your home. Also, adding a brightly colored ceramic one to a neutral tablescape can serve as a statement piece and provide interest to the room. Whether they blend into your room's color scheme or pop up from the foreground, they create a unique look to any room.
Group Similar Vases Together for a Refined Look
You can design a striking, modern display in your home by grouping different types of vases together. While they don't need to match in size, shape, or color, arranging them together builds a minimalist centerpiece to display fresh greenery or seasonal blooms.
If you're looking for more décor inspiration, consider displaying a few mid-century vases on a shelf in your living room or grouping floor vases together in the corner of your dining room. With modern ceramic vases available in five different sizes and diverse color options, the Stacks Collection makes it easy to create a personal and custom arrangement for any room in your home.
Create a Stunning Tablescape with Different Styles
While grouping similar vases together can create a contemporary look, asymmetrical arrangements can also infuse personality into your space. For example, instead of putting one large cylindrical table vase on each side of the dining room table, update your tablescape with different sizes, shapes, and add texture with flowers and greenery to create depth and stimulate the eye.
By decorating with different shapes, colors, and styles, you can easily add variety to your interior design and highlight your tablescape. Plus, the mobility of vases means you can quickly change and update your look throughout the year.
Modernize Your Home with Beautiful Ceramic Table Vases
Vases refine your space with color and by filling your vases, they can add texture. Whether you're looking to incorporate fresh greenery into your space or revive your home with luxury vases, Pandemic Design Studio is your destination for museum-quality contemporary pieces.
Our sustainable ceramic vases feature an innovative modular design, making them a functional addition to any room. Breathe life into your space and instantly update your home with our unrivaled collection. Contact us today to learn more.