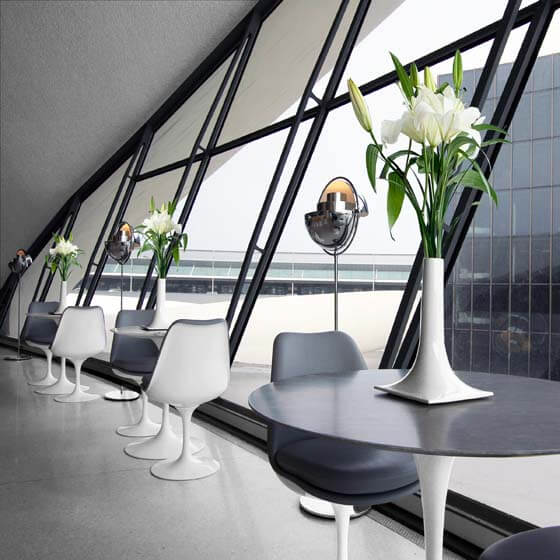 The hotel lobby represents a taste of what guests can expect from their stay. It should be a welcoming space reassuring guests that they've come to the right place. When done correctly, the design elements should also communicate the hotel brand, make guests feel at home, and leave a lasting impression. Consider some of the following ways that hoteliers and hotel designers can achieve all those goals, gain repeat visitors, and generate buzz that will attract new guests
Balance, Versatility and Style
Hotel lobbies must combine form and function to offer a visually appealing and comfortable space for guests. Guests should be just as happy having a cocktail in the lobby as they are conducting business or meeting a local friend.
Hotel lobbies need to be versatile. Accommodating a large-scale conference is a different experience than hosting guests of a family reunion or a romantic getaway. Hotels with thoughtfully balanced design features will be able to adjust to the needs of their clientele, while remaining in alignment with the needs and expectations of all the guests.
Create Unique, Multisensory Experiences
With more and more guests expecting one-of-a-kind experiences, sensory marketing is one way to set your business apart from the competition. After all, first impressions are formed with all the senses
Hotel lobbies with inspired décor, a signature scent, and pleasing sounds encourages guests to engage with the space. Because the sense of smell is closely linked to emotions and memory, fragrant flowers make a wonderful addition to the decor. Try filling ceramic flower vases with beautiful bouquets to evoke serenity with both their aromatic and aesthetic properties.
Embrace Natural Accents and Biophilia
A hotel lobby with a scenic view and lots of natural light is always appealing, but not always possible. Biophilic design offers an alternative way to connect visitors with the natural environment.
For instance, ceramic wall planters, whether relegated to one wall or scattered throughout the lobby, provide a convenient and attractive way to bring a little more life into the space. Wall planters are easily maintained, space-efficient systems that add to the multi-sensory experience. Living wallscapes can also help improve productivity, reduce stress, and enhance physical and mental well-being. Arranging wall planters in biomorphic patterns to mimic the organic shapes found in nature can add another natural dimension to the decorating scheme.
Upgrade Your Hotel Lobby With Biophilic Design
Natural décor is compatible with virtually any decorating style. Plant-loving guests always notice biophilic touches when they enter a space, while others might overlook it. However, the impact is universal and felt on a more intangible level whether seen with the eyes or triggered by other sensory feedback.
Pandemic Design Studio makes iconic modern ceramic vases and wall mounted planters that add inspired, sculptural elements to the green wall concept. Architects, interior designers, and hoteliers all love our modular design and unique approach to bringing more nature into structured spaces.
Contact Pandemic Design Studio to learn more about our innovative design concept. Next to our inspired and quality products, customer service is our top priority. We look forward to helping you achieve your vision.