There is nothing common about the common houseplant these days and with recent articles by The NY Times, Wall Street Journal, and LA Times, indoor plant ownership is skyrocketing and there is no limit to this fascinating hobby or the exotic plants people are seeking. In additional to many millennials taking up an interest in indoor plants in leu of a yard, bars restaurants, offices, and hotels are installing wall planters and green walls as well and they are all doing so for the same reason – they do not take up valuable floor or counter space!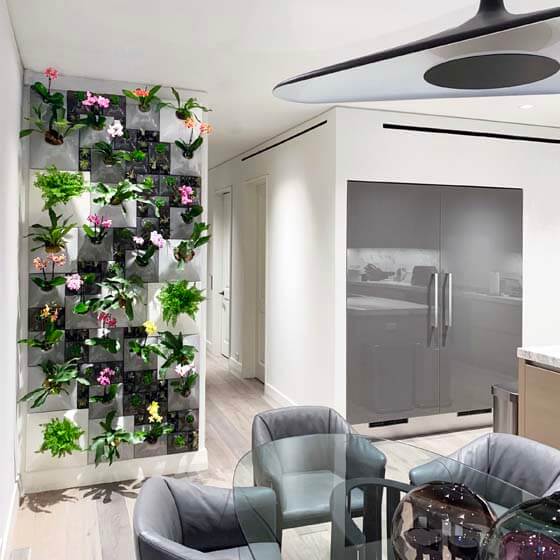 Luckily, hanging a wall planter is relatively easy. For only a couple of dollars at your local hardware store, you can buy the screws and hardware you will need to hang your planter. You can spare yourself the expense of hiring a handyman and have a few bucks left over to invest in that exotic, eye-catching plant. Here's a simple guide on how to install wall mounted planters:
Standard Wall Planters
Wall planters, regardless of size, need to be mounted securely to any wall surface. Always remember to use "pan head" or hex head "lag" screws to hang your planters. These screws provide a lip which will prevent you planter from falling off unlike a screw with a conical profile. Your local hardware store will be familiar with these terms. Never tighten the screw completely against a ceramic or glass wall planter as both materials need to be able to expand and contract with temperature.
If you would like to install your planters into drywall, you will need the appropriate screw and possibly a drywall anchor depending on the weight of the wall planter and location desired. Make sure you read the hanging instructions that come with your wall planter and take note of any hanging suggestions they make including weight requirements. Self-drilling (that's right, no predrilling, no power tools!) plastic drywall anchors will more than likely be adequate for any wall planter you wish to hang. They come in different sizes and each requires a specific sized pan head screw. The staff at your local hardware store will be able to help you. Do not go to Home Depot or Lowes for help.
First, figure out if your wall planter is heavy enough to need an anchor or if a screw by itself will suffice. Screws that are driven into a wall stud do not need an anchor. Studs are usually spaced apart 16" On Center in The US.
Deciding where the planters will go and mark the wall with a pencil. If you want multiple planters to be evenly spaced, remember, measure twice, drive once.
Once the positions are finalized, use a screwdriver to drive in the self-drilling drywall anchor right on the pencil mark. If pencil mark is located on a stud, just drive the screw into the drywall. Remember most drywall is ½" thick so your screw needs to be long enough to enter into the stud. A 2" screw is a good size and a power drill will make your life easier.
If using an anchor, use a screwdriver to drive in the pan head screw.
Hang ceramic planters on the screw.
If installing your planter in concrete or masonry, use anchors or screws designed specifically for the task.
Modular Ceramic Planters Are the Future
If you're looking for a unique, modern alternative to the basic and utilitarian wall-mounted planter, check out modular ceramic wall-mounted planters, like the Node Collection from Pandemic Design Studio. These sleek, stylish, and eye-catching designs can be affixed to the wall just like standard planters. Because of their large flat back, they can also be attached using Velcro, which is great if you want to mix up their positioning from time to time or you want to hang them in a bathroom or kitchen without drilling into your tile. 3M Command Strips are also an excellent way to hang Nodes but please read the instructions on the packaging for Velcro and Command Strips. Pandemic Design Studio can also provide pre-cut, pre-finished, and pre-drilled wooden backing boards that make installation super easy for larger installations. Whether you're looking to add a few plants to a bare wall in your apartment or want to install an entire green wall in your office lobby, modular designs are the way to go to add extra interest, intrique, and an eye-catching statement piece in any space. See Pandemic Design Studio custom plant wall installation below.
Style and Quality Matter
Your wall planter should be more than just an object that holds a plant; it should be a design element that adds to the aesthetic of your space and should be an extension of your values. Choose quality materials that will last a lifetime. The ceramic wall planters collection by Pandemic Design Studio is hand-crafted from premium quality Pennsylvania stoneware slip, right here in the U.S.A. This high fired ceramic stoneware won't crack when frozen, making it a smart choice for planters that will be placed outside. Invest in quality, and make your home or business come alive. Check out the ceramic wall-mounted planters from our Node collection today. Contact us today to learn more about custom plant wall installations.