There is powerful evidence that incorporating elements of nature and living things in the built environment can have a direct impact on profits and your bottom line. From a marketing perspective, interior retail design is essential for attracting new guests and strengthening customer loyalty.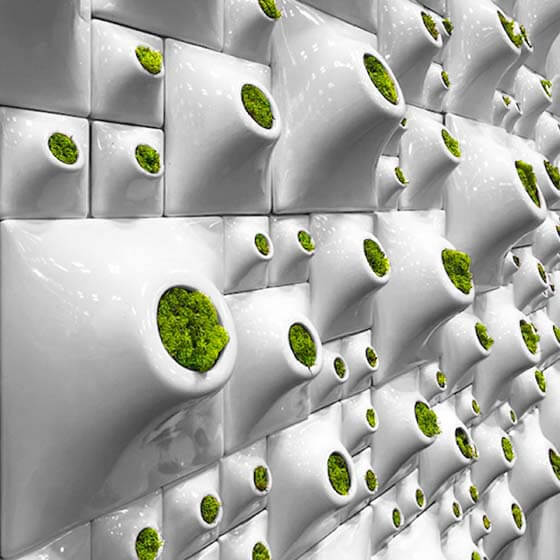 To thrive, retail spaces need to foster emotionally curative experiences to prompt further exploration of the brand. At its very core, biophilic design nurtures these objectives. And it does so by connecting people to the calming and restorative effects of the natural world.
Benefits of Biophilic Design in Retail Spaces
Consider the research:
Visually appealing biophilic spaces changes a shopper's perception of quality and value
Shoppers are more likely to dwell in retail stores bathed in natural sunlight
The therapeutic effect of nature produces positive emotions toward making a purchase
Shoppers feel at ease and happier in spaces that connect them to the outdoors
Stores lit by daylight reap significant sales boosts of 20 to 40 percent
In other polls where people were shown images of retail settings with and without greenery and natural light, respondents indicated they would pay 20 percent more for products sold in biophilic spaces.
Increase Perceived Product Value and Sales
Biophilic retail spaces enhance the consumer experience, making them more inclined to linger, browse in comfort, and have a higher perception of the product's value. Moreover, customers are more likely to share their experiences with friends and return in the future, which ultimately translates into more sales.
By embracing biophilic elements that help engage sensory stimuli, retail owners have the opportunity to boost profits in a savvy and ecologically sound manner. There are many ways to integrate nature-inspired design concepts into an indoor retail environment, from soaring windows and potted trees to cascading waterfalls.
However, you don't have to spend a fortune to create a soothing and uplifting environment for shoppers. Instead, consider revamping your space with stunning pieces by Pandemic Design Studio. Our Node Collection ceramic wall planters boast a space-efficient modular design, letting you mix and match diverse colors and sizes to create a visual green masterpiece uniquely yours. Improve customer mood with a spray of vibrant succulents, airplants, or graceful orchids.
Research indicates that exposure to materials, textures, and visual cues from nature can help customers reduce stress levels and redirect their mental energy for a more gratifying shopping experience. Biophilic design isn't limited to green wallscapes but can also include ceilings, floors, and tables.
For a clean, sophisticated design element with high visual impact, our handcrafted modular tablescape ceramic flower vases are a space and budget-friendly option with limitless configuration possibilities. Available in 5 sizes and 4 colors, this sculptural vase system is the perfect vessel to showcase seasonal blooms, ferns, evergreens, or zero-maintenance silk plants on the floor or on the table and because of their patented design, they can comfortably hold 3 times their height in foliage without any worry of tipping over!

Improve the Consumer Experience
Humans have an innate preference for natural environments over those that are artificial. Biophilic design in retail spaces makes shopping a more relaxing and pleasant experience.
To learn more about high-fired ceramic vases and planters by Pandemic Design Studio, please Contact Pandemic Design Studio today to inquire for more details.